JRZS Series Twin Screw Pumps
Pioneer for the first design of "One Piece twin screw case", "Large radius corner case to reduce the dead Space for smooth flow" and "Compact front loaded self-balanced mechanical seal system".
Pumping widest range of viscosity and providing flexibility for various condition at the best operating.
High speed range (up to 3,000rpm) of revolution ensure "2-in-1" operation for both product and CIP.
Pulsation free for gentle treatment and High suction performance for higher capacity.
Designed according to the 3A & EHEDG guidelines.
Elastomers with FDA & EC1935.2004 complied.
Various seal system for Unique, Compact & Simple construction.
Simple & easy for maintenance with Low service cost.
Werred parts surface for Ra<0.8µm and RA<0.4µm for Ground surface optional.
Stainless steel 316L for wetted parts.
Fully drainable front cover.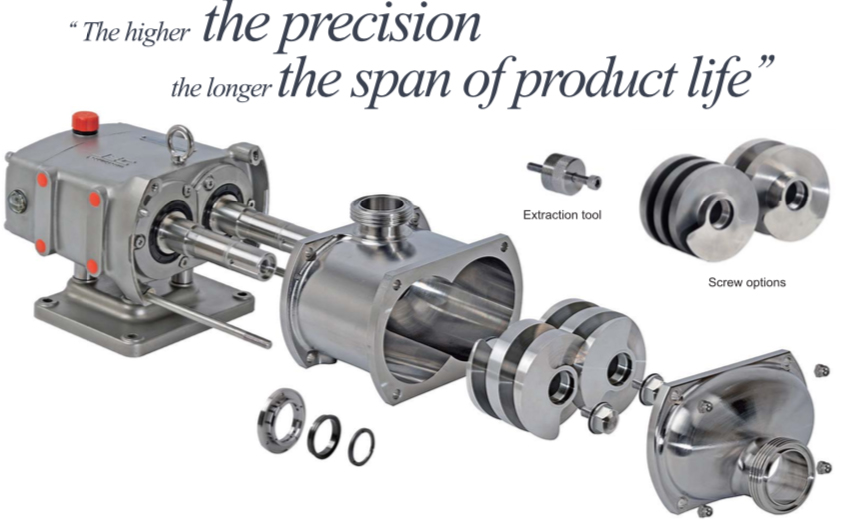 SPESIFICATIONS
Modular system interchangeable with rotary lobe pumps.
Good interchangeability of carious seal systems.
Two different screw pitches for optimized applications.
Double Angular ball bearing, good for high speed.
All type of ports connection available.
Surface-hardened screws and pump case optional.
Heating jacket on the pump case optional.
APPLICATION
JRZS series pumps have been designed to be conveyed with all hygienic pumping applications found in the food, dairy, beverage, cosmetics, pharmaceutical and chemical industries.
Widest range, from aqueous to the high viscous media can be treated with low shear up to 1,000,000cPs, 3,000rpm for CIP operation, 16bar for Macimum differential pressure.