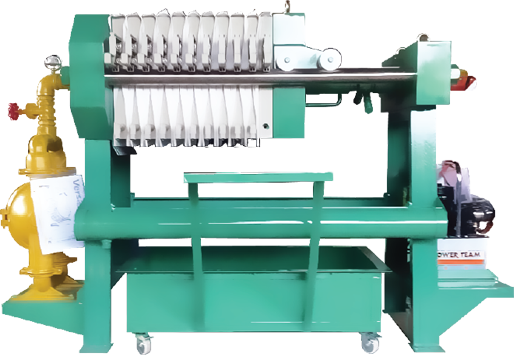 GENERAL MATERIAL SPESIFICATION
CHAMBER PLATE:
Polypropylene – KLINKAU – GERMANY
Hydraulic System:
SPX POWER TEAM – USA
Sludge Feed Pump:
VERSAMATIC – USA
Skeleton:
Mild Steel ASTM A.105, ANSI B16.5, ASTM A 350 GRADE L. F2
Wetted Line:
AISI 304
Chamber Filter Plates
The recessed chamber filter plate made from polypropylene is a development of the plate and frame filter plate and has the same functionality.
The chamber plate frame is however integrated within the chamber filter plate thus significantly enhancing the plate's stability. This enables chamber filter plates to be used at much higher filtration pressure levels. Optional cake and plate thicknesses are available depending on the specific filtration conditions and application. Klinkau chamber filter plates can also be supplied in caulked and gasketed design (CGR). The chamber filter plates are made of plastic and feature excellent chemical resistance and simple handling.
Advantages Of Chamber Filter Plates
Single element and therefore cheaper than separate plates and frame.
Filtration pressures of up to 50 bar.
Suitable for high filtration temperatures.
Robust design with reinforced edges.
The recessed filter has a special pipped surface to protect the filter cloth and ensure excellent filtration.