TWIN-SCREW PUMPS
JEC Twin Screw Pumps JRZS series provide flexibility, efficiency and benefits.
Pioneer for the first design of "One piece twin screw case", "Large radius corner case to reduce the dead space for smooth flow" and "Compact front loaded self-balanced mechanical seal system".
Pumping widest range of viscosity and providing flexibility for various conditions at the best operating.
High speed range (up to 3,000rpm) of revolution ensures "2-in-1" operation for both products and CIP.
Pulsation free for gentle treatment and High suction performance for higher capacity.
Out shimming located between gearbox and casing reduces a lot of time-consumed rotor's alignment.
3-A & EHEDG certified and elastomers with FDA & EC1935/2004 complied.
Integral geared adaptor can be coupled with B5, 4pole motor directly.
Diverse shaft sealing system for Unique, Compact & Simple construction
Wetted parts for Stainless steel 316L and surface for Ra < 0.8㎛ .
Simple & easy maintenance with low service cost.
Fully drainable front cover.
Description
The only one in the field of "Twin Screw Pumps"!
JRZS series of Twin-Screw Pumps were newly developed with very unique "One piece with large radius corner screw case" design, very compact "Front loaded self-balanced mechanical sealing system", "Fully drainable front cover" and "Integral geared adaptor with B5, 4pole motor directly coupled". It is the only one in field of the "Twin Screw Pumps"!
The JRZS series were designed for reliable pumping from low to high viscous, volatile or gaseous products and applications to fulfill the utmost hygienic and efficiency requirement produced according to the highest hygienic specifications such as EHEDG & 3-A certified manufacturing processes.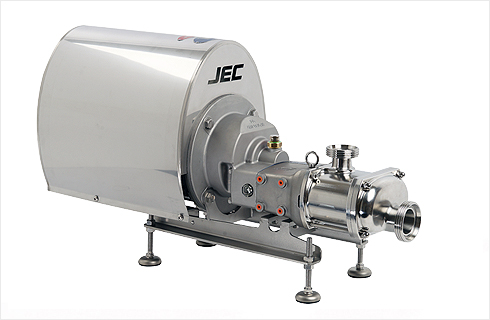 Integral geared adaptor with B5, 4pole motor directly coupled!
The cutting edge of Twin Screw Pumps, JRZS series can be supplied diverse types to meet the customer's requirements. The standard type of JRZS Series, the 'Integral type' consists of integral geared adaptor with B5, 4 pole motor directly coupled. This provide the most cost & space effective due to the size of 4P motor and higher efficiency instead of coupled with 6P or 8P motors and convenient to get with quick delivery.
And also can be supplied as a 'Bare shaft', i.e. pumps head only without motor or common bed. Or, can be supplied as a 'Complete unit' with drive (geared motor), coupling & guard, common bed.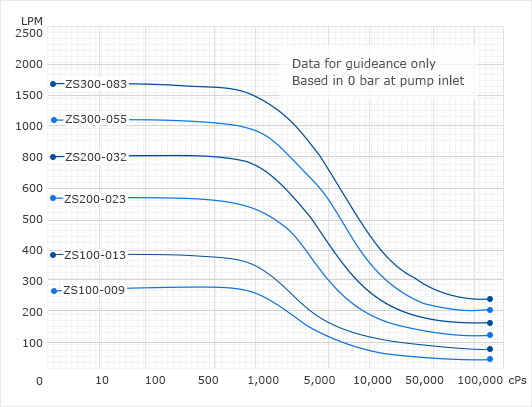 Model
Litres/ rev
Max Pressure bar
Port mm
Max Speed rpm
ZS100-009-12
0.09
12
2.5″ x 2″
2″ x 1.5″
3,000
ZS100-013-08
0.13
8
3,000
ZS200-023-12
0.23
12
3″ x 2.5″
2.5″ x 2″
2,500
ZS200-032-08
0.32
8
2,500
ZS300-055-12
0.55
12
4″ x 3″
3″ x 2.5″
2,000
ZS300-083-08
0.83
8
2,000