ROTARY PUMP, JTP
Description
JTP series hailed as the best truck pump in the world
JTP series provide higher capacity, higher pressure and unmatched efficiency on a variety of viscosities enabling faster unloading and loading. Optimal hygienic construction is realized with profiled gasket system, high grade 0.6㎛Ra surface finish and minimized-end seal area.
Wetted parts are made of SS 316L
Front Loading Seal makes faster and easier maintenance without removing the rotor housing.
JTP series have lighter body, higher efficiency and more saving fuel consumption than other Truck pumps.
Female drive shaft accepts direct-coupled SAE B or C flanged hydraulic motors as an alternative to the standard PTO male shaft (JTP330 series only).
Performance Curve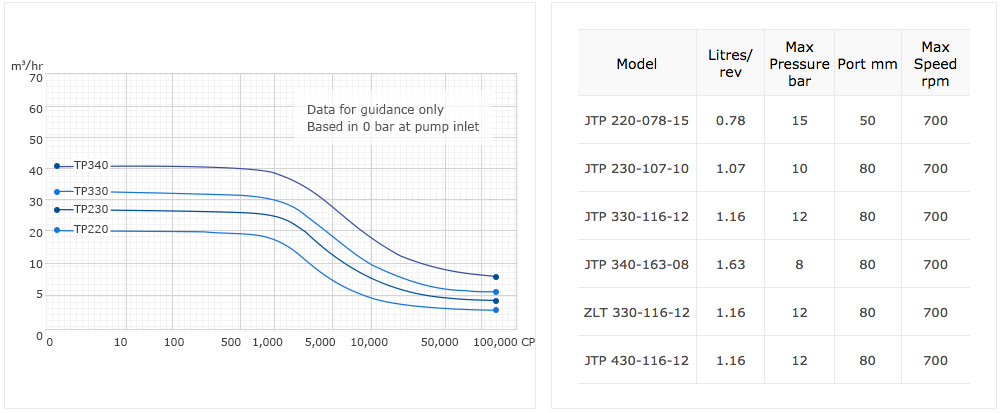 JEC Road Tanker Pumps are specially designed for wide application of transportation service
– Easy to installation and maintenance
– Approved EHEDG and 3-A, 1935/2004, FDA, ATEX standards
– Cover high or low viscosity products
– Quick strip and easy to clean place
– Less downtime for interchanging seals due to front loading seal design
– Low shearing action
– Flexible and two method of mounting
– Mirror finish-standard 0.6 ㎛Ra optional 0.4 ㎛Ra (16Ra, 192grit)
– Externally mounted seal for hygienic application
– Balanced seal and multi-spring for rotary seal ring drive
– Maximum pressure : 218psi(15bar)
– Maximum capacity : 214GPM(48.7 ㎥/hr)
– Wide application for food, dairies, melted-sugars, pharmaceuticals & chemical medias and cosmetic products etc.